PRODUCT INFORMATION
CUSTOMER REVIEWS
PRODUCT INFORMATION
SPDT 12V 10AMP 5 PIN RELAY in pakistan BR1186
 SPDT 12V 10AMP 5 PIN RELAY IN PAKISTAN  
Specification:
 
Model=JQC-3F(T73)
 
COIL VOLTAGE =12V
 
CURRENT CAPACITY =10AMP
 
COIL CURRENT+ 30mA
 
TERMINALS
 
COM
 
NC
 
NO
 
   The relays switch connections are usually labeled COM(POLE), NC and NO:    COM/POLE= Common, NC and NO always connect to this, it is the moving part of the switch.    A relay shown in the picture is an electromagnetic or mechanical relay.    
   Fig. Relay and its symbol    There are 5 Pins in a relay. Two pins A and B are two ends of a coil that are kept inside the relay. The coil is wound on a small rod that gets magnetized whenever current passes through it.    COM/POLE is always connected to NC(Normally connected) pin. As current is passed through the coil A, B, the pole gets connected to NO(Normally Open) pin of the relay.    Here is an example,    This is a dark sensor circuit.    
   Fig. Dark sensor using two transistors    
Components for this experiment are available at buildcircuit.net.
   Now, replace LED-D1 and R2- 330R with a relay and diode.    Reconfigure the circuit as shown in the figure below: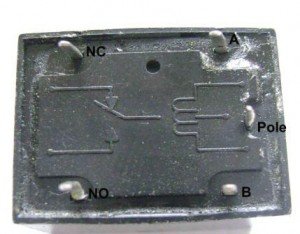 Fig. Dark sensor using two transistors and a relay.